This week was the week of the Computex trade show (June 3-7) in Taipei, Taiwan, and as a result, a lot of new products were unveiled. In fact, it may be too much for this installment of the Hardware Roundup, so I may post a second installment later this weekend. But here are the main highlights of the past week.
Cooler Master Compile List of Haswell-Compatible PSUs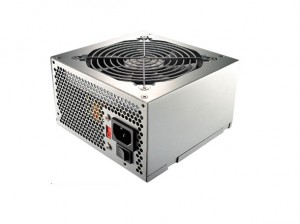 Or, more accurately, they have announced that all of their PSUs are Haswell-compatible. In face, most power supplies support Haswell. Among the improvements introduced with Intel's Haswell processors, power consumption in idle mode has been reduced from 6W to less that 1W. This might cause some older PSUs to shut the system off when the CPU enters idle mode, or prevent the system from waking up out of sleep mode. If motherboard vendors disable this power saving mode by default, then an upgrade to Haswell will not result in any issues.
Still, you can go to Cooler Master's website to see the full list of Haswell-compatible PSUs.
Kingston Announces SSDNow KC300
Kingston Digital, Inc. announced the latest addition to its SSDNow family, the KC300 solid-state drive. The SSDs are targeted at business users and replace the Kingston V+200 and KC100 drives. The 2.5-inch SSDs are based on the familiar LSI-SandForce SF-2281 and feature various SMART functions, as well as the option to check data integrity through DuraWrite. KC300 enables users to be more productive as the drive maximizes power efficiencies in notebook PCs. KC300 provides advanced power management via an LSI SandForce second-generation SF-2281 processor, allowing users to do more from a single charge.
The storage devices have a SATA 6 Gbit/s interface and come in capacities ranging from 60 GB up to 480 GB. The SSDNow KC300 SSDs are available in a regular version, which includes just the drive, and an upgrade bundle, which comes with several accessories and software to migrate data to the solid-state drive. The KC300 is available as a stand-alone drive or as an upgrade kit containing cloning software and other accessories for a desktop and/or notebook system. It is backed by a three-year warranty and free technical support.
Asus Unveils Maximus VI
Asus announced its first Republic of Gamers motherboard for the mini-ITX form-factor: the Maximus VI Impact. The Maximus VI Impact is a mini-ITX LGA1150 motherboard with the Intel Z87 Express chipset and supports 4th generation Core "Haswell" processors. The CPU is powered through an 8+2 phase VRM design that protrudes the main motherboard in its own PCB. The PCB gets its power through an 8-pin EPS connector. The rest of the board is powered through a 24-pin ATX connector. There are three other daughterboards on the Maximus VI: the SupremeFX Impact, a sound-card with an audiophile-grade 115 dBA DAC, OPAMPs, and audio-grade capacitors; and an mPCIe combo card that lends it 802.11 ac WiFi and Bluetooth 4.0; and an ImpactControl card that gives overclockers POST diagnostic readouts and CMOS reset/restore at the push of a button, right from the rear panel.
The Maximus VI Impact also gives you four SATA 6 Gb/s ports, an eSATA 6 Gb/s port, six USB 3.0 ports (four rear, two by header), six USB 2.0/1.1 ports, HDMI, DisplayPort, gigabit Ethernet (Intel controller), 6-channel SupremeFX Impact audio with 8-channel digital output, a PCI-Express 3.0 x16 slot, and two DDR3 DIMM slots supporting up to 32 GB of dual-channel DDR3 memory. No price has been announced yet.
The product was introduced at Computex, where Asus chairman Jonny Shih challenged the notion that the DIY side of PC gaming is disappearing with the popularity of consoles and the growing influence of mobile gaming. "The core essence of building," he said, "is the core feeling of accomplishment and satisfaction." To this end, Asus continues to offer components suited to DIY enthusiasts, and has added several features for performance enhancement.
You can find out more about the Maximus VI at Asus's product page for the Maximus VI.
Triplex Announces Slot-Powered Radeon HD 7850
Graphics card maker Triplex unveiled a new single slot Radeon HD 7850 2 GB (GDDR5 memory) air-cooled graphics card that relies entirely on the PCI-Express slot for power. It has a base clock speed of 860 MHz and the memory runs at an effective speed of 4.8 GHz. The card can only consume up to 75 watts from the PCIe x16 slot. This card will only be sold through OEM channels and will not be sold directly to consumers.
NZXT Announces HALE82 V2 PSUs
NZXT has announced a new lineup of power supplies at Computex: the HALE82 V2 series. The power supplies are fully modular, 80+ Bronze certified (ensuring efficiency levels up to 85%), and are available in black and white designs. They are built using a single powerful 12V rail to ensure your components get the power they need. For now, the HALE82 V2 will be available in two versions: a 700W unit and a 550W one. They come with a 135mm silent fan. Pricing is $106 U.S.D. for the 550 watt version and $132 U.S.D. for the 700 watt version.
You can find more information about the HALE82 V2, including more detailed specifications, at NZXT's product page for the 550 watt HALE82 V2 and the product page for the 700 watt version.
Asus Launches ET2702 All-In-One PC
Asus has announced the ET2702, an all-in-one PC, at Computex. The ET2702 is the first all-in-one desktop with QHD resolution; it comes standard with a 27-inch, 2560 x 1440 IPS screen and offers three HDMI in/out ports that allow it to serve as a display for other devices and connect up to three external displays simultaneously.
For now, the ET2702 will include a choice of Intel 4th generation Core processors, a Radeon HD 8990A graphics card, an 802.11ac Wi-Fi that offers transfer speeds of up to 867 Mb/sec and Asus SonicMaster audio technology. In the U.S., the initial configuration will feature a Core-i7-4770 processor, a 2 GB AMD Radeon HD 8890A GPU, 16 GB of RAM, a 2 TB hard drive, 802.11ac and a Blu-ray drive. No pricing information is available yet, but it will reportedly have a price around $2000, and will be available in late July or early August.
You can read more about the ET2702 at the Asus website which has the original press release.
Gigabyte Debuts Z87-OC and Z87-OC Force Motherboards
At Computex, Gigabyte has debuted a new Z87-based motherboard for Intel's new Haswell line of processors, a board designed especially for overclockers. They debut a number of interesting features designed to "help enthusiasts and overclockers get the most performance from their hardware, as well as the most enjoyable OC experience possible."
The board carries an orange and black theme, and has four RAM DIMM slots. It also has the OC Touch, onboard buttons which allow the user to fine-tune the CPU frequency. It also features four PCIe-x16 expansion slots and supports up to four-way Crossfire and SLI. The PCIe slots are spaced every other expansion slot, leaving room for dual-slot coolers. The Z87X-OC also features six USB 3.0/2.0 ports and two exclusively USB 2.0 ports. Gigabit Ethernet is provided through an Intel networking chip. THe board also features 8-channel audio via an ALC892 audio controller. Gigabyte has not yet made pricing and availability information public.
For more information, see Gigabyte's product page for the OC or Gigabyte's product page for the OC Force.