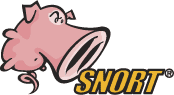 If you are running pfSense and are looking for an additional means of securing your network, you may consider installing snort on your pfSense system. Snort installation will be the subject of this next series of articles. Snort is an open source network intrusion prevention system (NIDS), capable of performing real-time traffic analysis and packet logging on IP networks. It can perform protocol analysis, content searching and matching, and can be used to detect a variety of attacks and probes, such as buffer overflows, stealth port scans, CGI attacks, SMB probes, OS fingerprinting attempts, and much more. Snort has three primary uses. It can be used as a straight packet sniffer like tcpdump, a packet logger, or as a full-blown network intrusion prevention system. In sniffer mode, the program will read network packets and display them on the console. In sniffer mode, the porgram will read network packets and display them on the console. In packet logger mode, the program will monitor network traffic and analyze it against a rule set defined by the user. The program will then perform a specific action based on what has been identified.
Snort Installation Under FreeBSD 8.x
Snort installation on a  pfSense box begins with  SSHing into the system to access the shell prompt. If you have a recent version of pfSense (2.0 or newer), it should be running under FreeBSD 8.1 or newer. You will need to install the following package via pkg_add: gcc version 4.2.x (including libraries), zlib (1.2.3), libpcap (1.0.0 including libpcap-devel), pcre (8.32), bison (2.7), m4 (1.4.16), flex (2.5.4 including flex-devel), libdnet (1.11 including libdnet-devel), and tcpdump (4.0.0). Versions of these package can be newer than what is listed here. Then download the source code for snort at the official snort website. Download the archive to /usr/local/src. Type the following commands to unpack snort:
cd /usr/local/src
tar -zxvfsnort-2.9.5.5.tar.gz
Once you have unpacked snort, do the following to compile snort:
cd /usr/local/src/snort-2.9.5.5
./configure -enable-sourcefire
make
make install
Note any errors which may cause the "configure" step to abort and also check the file "config.log" which is generated from the "configure" line above.
In order to download snort rules from www.snort.org, you must be a registered user or have a paid subscription to download rules sets or VRT rules. Registered users will be able to download rule sets which are approximately one month behind what is available to paid subscription holders.
Continue snort installation by issuing the commands below to copy the configuration files to /etc/snort:
cd /etc
mkdir -p snort
cd snort
cp /usr/local/src/snort-2.9.5.5/etc/*.
tar -zvxf snortrules-snapshot-.tar.gz
touch /etc/snort/rules/white_list.rules /etc/snort/rules/black_list.rules
This will place the configuration files from the snort 2.9.5.5 unpack and the rules snapshot under the /etc/snort directory. If the rules snapshot file is newer, this is not an issue (since rules are updated on a periodic basis by the snort team). Also, the configuration files are residing in /etc/snort and the rules files will be in /etc/snort/rules and the so_and preprocessor rules will be located in /etc/snort.
In the next article, we will continue our look at snort installation under pfSense.
External Links:
Ad Links: