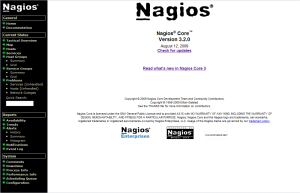 Nagios is an open source computer system monitoring, network monitoring and infrastructure monitoring software application. It enables organizations to identify and resolve IT infrastructure problems before they affect critical business processes, and offers monitoring and alerting services. It alerts the users when things go wrong, and alerts them a second time when the problem has been resolved.
Nagios was originally designed to run under Linux, but it also runs well on other Unix variants. It is licensed under the terms of the GNU GPL version 2. It was originally created under the name NetSaint, and was written and maintained by Ethan Galstad along with a group of developers who are actively maintaining both the official (and unofficial) plugins. The name of NetSaint was changed in response to a legal challenge by owners of a similar trademark; Nagios is a recursive acronym which stands for "Nagios Ain't Gonna Insist On Sainthood".
Nagios includes the following capabilities, among others:
Monitoring of network services
Monitoring of host resources (processor load, disk usage, system logs) on a majority of network operating systems (including Microsoft Windows)
Monitoring of anything else like probes which have the ability to send collected data via a network to specifically written plugins
Monitoring via remotely run scripts via Nagios Remote Plugin Executor
Remote monitoring supported through SSH or SSL encrypted tunnels
Nagios Installation
The process of installing Nagios under Linux is fairly straightforward. First, you need to install some prerequisites, which you can get from the repositories. First, install Apache 2 and the Apache PHP libraries:
sudo apt-get install apache2
sudo apt-get install libapache2-mod-php5
Next, install the GCC compiler and development libraries:
sudo apt-get install build-essential
Finally, you need to install the GD 2 development libraries. With some distributions, you install it like this:
sudo apt-get install libdg2-dev
But with some newer distros (including Ubuntu 7.10 and above), the name of the gd2 library has changed:
sudo apt-get install libgd2-xpm-dev
Next, you need to set up the Nagios account. Start by becoming the root user:
sudo -s
Now create a new user and give it a password:
/usr/sbin/useradd -m -s /bin/bash/nagios
passwd nagios
On some distros, you may need to add a group, but on newer server versions of Ubuntu, you can skip this step:
/usr/sbin/groupadd nagios
/usr/sbin/usermod -G nagios nagios
In either case, you will need to create a new nagcmd group for allowing external commands to be submitted through the web interface, and to add the nagios user and the Apache user to the group:
/usr/sbin/groupadd nagcmd
/usr/sbin/usermod -a -G nagcmd nagios
/usr/sbin/usermod -a -G nagcmd www-data
Now you need to download the nagios souce code tarball from the download section of the official Nagios web site. You probably also want to download the plugins tarball as well. Unpack the tarball:
tar xzf nagios-4.0.8.tar.gz
cd nagios-4.0.8
Then run the configure script, passing the name of the group you created earlier:
./configure –with-command-group=nagcmd
Compile the source code:
make all
Next, install the binaries, init script, sample config files and set permissions on the external command directory:
make install
make install-init
make install-config
make install-commandmode
This takes care of Nagios installation. In the next article, we will cover installation of the plugins and configuration.
External Links: