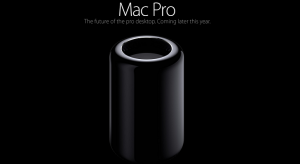 Apple Introduces New Mac Pro
At the World Wide Developers Conference (WWDC), Apple gave a preview of the next Mac Pro. The case's design is innovative to say the least: it's 9.9 inches tall, 6.6 inches wide, and thus more than small enough to sit on your desk. The entire system is cooled by a single impeller and each of the major components makes contact with a large, triangular heatsink which Apple calls the "thermal core". Inside the case are next-generation Xeon processors (up to 12 cores), dual AMD FirePro GPUs, six Thunderbolt 2 ports, PCie-based flash storage, and ECC memory.
The new reliance on Thunderbolt, however, may be a problem for anyone who was not planning on upgrading all of their peripherals. Users who wanted to upgrade to a Mac Pro but keep existing hardware may be disappointed. In addition, current Mac Pro users who depend on dedicated expansion cards, internal drive bays, USB ports or have multiple monitors hooked up via DVI, DP, or HDMI may find themselves locked out of an upgrade until they can afford to buy all new peripherals, or at the very least converters.
Apple did not announce pricing information, and no specific date was announced for availability. You can find out more about the Mac Pro at Apple's website.
Antec Introduces Kühler H2O 1250 and Kühler H2O 650
Antec demoed a pair of all-in-one CPU coolers in the Kühler H20 series at Computex: the Kühler H20 1250 and Kühler H20 650. The two are an improvement on their Series 4 predecessors with more powerful pumps and new high-airflow fans that focus airflow through the radiator. The fan's motor doubles up as the pump's motor so the air and coolant flow are in perfect proportion. With fewer moving parts, one assumes the device will be more quiet, but the unit's fans will not be replaceable.
The units will be compatible with all of the most recent CPU sockets, including LGA1150. No pricing information has been released yet.
Intel to Rebrand Select Atom CPUs as Celerons and Pentiums
Certain Silvermont-based Atom processors will be rebranded as Celeron and Pentium processors. Celeron is the value end of Intel's Core-based mainstream chips. Intel's reasoning is that some variants of Silvermont now offer performance comparable to current mainstream Celeron and Pentium processors. This is quite a contrast from the Atom of old, which had a reputation for being slow. Higher-performance varieties of Silvermont will also ship with PC-like attributes such as PCI and SATA.
The rebranded processors will be featured in notebooks, convertibles, all-in-ones and desktops running both Android and Windows whilst chips destined for tablets and mobile devices will not be taking on the new branding.
Enermax Introduces New ETS-T40 CPU Coolers
Enermax has launched two new coolers in the ETS-T40 series: the ETS T40-Black Twister and the ETS-T40 White Cluster. The Black Twister comes in a sleek black color, while the White Cluster is arctic white. Both, however, feature four 6 mm heat pipes with a Heat Pipe Direct Touch structure, and a 120 mm PWM cooling fan which runs from 800 RPM to 2200 RPM. Both models also use a unique Thermal Conductive Coating (TCC) to create better velocity of thermal transference and prevent oxidation on the contact surface. They also have a Vortex Generator Flow (VGF) structure, which helps increase air convection in between the radiator fins.
The ETS-T40 series feature a universal bracket that works with most Intel and AMD sockets. The Black Twister and White Cluster will be available in the United States with an MSRP of $49.99.
Antec Unveils Venom IV CPU Heatsink
At Computex, Akasa showed off its Venom IV CPU cooler, which keeps up with the basic design elements of the Venom series. The cooler features an aluminum fin-stack design, which uses asymmetric shape and planes to dissipate heat better, and four 6mm-thick copper heat pipes than fan out through the entire length of the fin-stack to dissipate heat more uniformly. The bottom bend of each heat pipe makes direct contact with the CPU.
The Venom IV comes with a 120mm S-flow fan, which should provide up to 30 percent more airflow. The fan is PWM-controlled and can spin at speeds ranging from 600 RPM to 1900 RPM. The unit supports all modern CPU socket types, including LGA115x, LGA1366, LGA2011, AM3+/AM3, and FM2/FM1. Akasa has not made pricing information available as of yet.
Xigmatek Introduces Boreas and Orthrus CPU Coolers
Xigmatek revealed two new C-type CPU coolers at Computex: the Boreas and the Orthrus. The Boreas cooler follows in the footsteps of Xigmatek's Janus CPU cooler, though instead of a small fan below the aluminum fin stack it has a bigger fan. It has five 6mm copper heat pipes and two 140 mm PWM-controlled fans. The fans can spin at speeds from 800 to 1500 RPM, and push up to 38.42 CFM. The unit measures 140mm X 140mm X 125mm.
The Orthrus is a departure from the Janus, and does not follow the conventional C-type CPU cooler design. It starts with a conventional copper base with HDT, and seven 6mm-thick heat pipes, with the central ones going to a large aluminum fin stack, while the peripheral ones go to a smaller fin stack located below the larger one, and arranged in an incline. The larger one is ventilated by a 25mm-thick 140mm PWM fan which spins from 800 to 1600 RPM, and the smaller one uses an 80mm fan spinning at 2000 RPM. The entire top of the cooler is covered by a black ABS shroud. The entire unit measures 146mm X 200 mm X 165 mm.
Colorful Debuts GeForce GTX 780 Kudan and GeForce GTX Titan Ultra Edition
At Computex, Colorful unveiled two new graphics cards. The iGame GeForce GTX 780 is their top-of-the-line card featuring a non-reference PCB design and a mammoth Kudan cooler that occupies three expansion slots. The card makes use of a GK110 core that is equipped to a non-reference PCB making use of higher-quality components compared to the reference design. That, in combination with being powered by two 8-pin PCIe power connectors, should allow the card to have a lot more overclocking headroom than reference models.
The GTX Titan Ultra Edition, on the other hand, is a reference model of the GTX Titan with a water block on it and a factory overclock. Colorful has not yet made pricing information available.
AMD Announces Radeon HD 8000 Graphics Cards Will Have Better Coolers
AMD is preparing a new type of cooler for the Radeon HD 8000 series. AMD revealed this information at Computex, but did not show the cooler there. The new coolers will be better than the reference coolers on the Radeon HD 7000 series graphics cards, although some add-on-boards (AIBs) will likely make cards with better coolers than the Radeon HD 8000.
Lian-Li Puts a 240 mm Radiator on Top of Motherboard
Lian-Li has introduced a case with a liquid cooling radiator placed at the most obvious place: along the plane of the motherboard, right over its top half. A 240mm X 120mm radiator can be screwed onto a hinged frame, which can easily be moved to access parts of the motherboard right under it. This case was unveiled at Computex 2013.
Other than the hinge for the water cooler, the Lian-Li PC-V360 is a typical PC case, and can house Micro ATX motherboards and smaller ATX boards. It has five 3.5″ drive bays, three 2.5″ drive bays, and a single 5.25″ optical drive bay. Cooling is taken care of by up to three 120mm fans and one 80mm fan, on top of which sits the radio.
Pricing and availability information was not yet released.