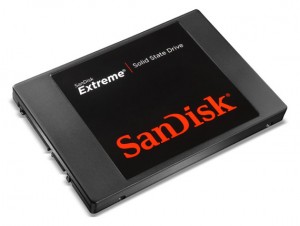 Sandisk Sampling Second Generation Flash Memory
Sandisk announced it has begun customer sampling flash memory based on 1Y nm process technology, the second-generation of its 19 nm process technology. With this iteration, SanDisk takes its memory cell size from 19nm-by-26nm to 19nm-by-19nm, delivering a 25 percent reduction in the memory cell area. This should bode well for customers, with the new technology allowing for higher capacity products and lower cost manufacturing techniques when when creating SanDisk flash memory solutions. This should result in more storage and smaller-sized flash memory chips for mobile phones, tablets, and solid state drives (SSDs).
SanDisk achieves this by using the most sophisticated flash memory technology to date, including advanced process innovations and cell-design solutions. SanDisk's All-Bit-Line (ABL) architecture with proprietary programming algorithms and multi-level data storage management schemes help yield multi-level cell (MLC) NAND flash memory chips that do not sacrifice performance or reliability. In addition, SanDisk's three bits per cell X3 technology, implemented in the second-generation 19nm node will deliver the lowest-cost flash solutions to address multiple growing end-markets for flash memory.
AMD CPU Used in Xbox One
Last week, Microsoft unveiled the Xbox One, the long-awaited successor to the Xbox One. They also released the hardware specs for the system. The Xbox One is powered by an 8-core x86 AMD CPU and a GPU that is similar to the Radeon 7790. There is 8 GB of DDR3 RAM (shared between the CPU and GPU), 32 MB of fast SRAM on the graphics die, and a total of 200 MB memory bandwidth. There is also a Blu-ray drive, 500 GB hard drive, 802.11n WiFi, HDMI in and out, gigabit Ethernet, and USB 3.0. There will be 3 802.11n radios.
The multi-year deal with AMD will reportedly net the company more than $3 billion. In addition, AMD provided a "custom silicon solution" for Microsoft for the Xbox One.
OCZ Releases Vertex 450 SSDs
OCZ has announced the Vertex 450 series, a new line of SSDs. This drive is meant to be an upgrade to the Vertex 4, but not a replacement for the company's top-of-the-line Vector drive. Unlike the Vertex 4, which uses the Indilinx Everest 2 controller, the Vertex 450 uses the new Indilinx Barefoot 3 series controller, model BF3-M10, which happens to be the controller that was first used in the Vector. The OCZ Vertex 450 SSDs will also feature 20 nm NAND flash storage, and this controller adds AES 256-bit encryption functionality as well as a power-optimized clock. This will allow the drive to pump out 540 MB/s and absorb up to 530 MB/s of data, with random write performance of up to 90,000 IOPS. The Vertex 450 will be built on a 7 mm thick form factor.
The new OCZ Vertex 450 SSD is available now in three capacities: 128 GB, 256 GB, and 512 GB, at suggested retail prices of $130, $235 and $500, repspectively, and street prices will likely be even lower.
Kitguru has posted . You can also find more information on the Vertex 450 at OCZ's product page for the Vertex 450. Here are some additional reviews of the Vertex 450:
Fractal Design Introduces White Node 304 Chassis
The Node 304, a mini-ITX case manufactured by the Swedish company Fractal design and a case which has been available in black for some time, is now available in white. The Node 304 is an unusual case that can accommodate up to 6 3.5″ (or 2.5″) hard drives. The case also has room for a mini-ITX or DTX motherboard. It also has the following technical specs:
Mini ITX, DTX motherboard compatibility
Two expansion slots
Six 3.5″ or 2.5″ HDD / SSD
ATX PSUs, up to 160mm in length (To fit in combination with a long graphics card, PSUs with modular connectors on the back typically need to be shorter than 160 mm)
Graphics cards, up to 310mm in length, when 2 HDD brackets are removed (Graphics cards longer than 170 mm will conflict with PSUs longer than 160mm)
Tower CPU coolers, up to 165 mm tall
Includes three Silent Series R2 hydraulic bearing fans and a three-speed fan controller
Fan filter for graphics card
Two USB 3.0 ports on the front ( includes internal USB 3.0 to 2.0 adapter)
Case dimensions (W x H x D): 250 x 210 x 374 mm
Case volume: 19,5 Liters
Net weight: 10.8lb
Both the black and white Node 304 cases have a retail price of $89.99.
Enermax Releases 5 Adjustable Fans
Enermax is announcing five new fan models that will carry the company's APS (Adjustable Peak Speed) control, meaning that users will be
able to set the highest speed of the fan, and some of the units will be PWM controlled. The five models are the Cluster Advance, Everest Advance, Magma Advance, T.B. Vegas Quad and the T.B. Vegas. These fans can be regulated automatically by PWM, or by an integrated thermal sensor after selecting the RPM range. They all feature Enermax's patented Twister bearing, a magnetic bearing technology designed to reduce wear and tear and helps give the fans a life span of 100,000 hours. The T.B. Vegas and the T.B. Vegas Quad also offer a number of different LED lighting options (with the T.B. Vegas, the LED lighting cannot be switched off, though).
Innodisk Introduces Embedded SATA nanoSSD
Innodisk has just unveiled an embedded version of its nanoSSD that performs almost as well as its bigger counterparts. The µSSD-based SATA chip has a tiny footprint (0.63 X 0.79 X 0.079 inches, or 16 x 20 x 2 mm) and draws just 1 watt of peak power, but can still read at up to 480 MB/s and write at 175 MB/s. It will come in capacities ranging from 4 GB to 64 GB and will have a SATA3 interface through the Ball Grid Array (BGA) interface.
Innodisk further adds value through firmware optimization designed by in-house R&D, extending the life of its flash products through wear-leveling technology. Also, significantly reducing the risk of industrial applications is Innodisk's own disk monitoring tool – iSMART, which allows users to visualize SSD wear-leveling status at a glance with a clear graphical display, giving users time to replace damaged disks before they fail.